Post by Dorian Gaudain on Nov 23, 2009 19:17:38 GMT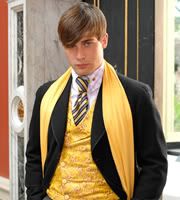 who is that boy?
[/size]
-
----------------[/b][/size]

Dorian watched Cai as he locked the door and couldn't stop himself feeling slightly scared. He frowned slightly as Cai moved him on the bed, wondering what he was doing but then realised he was doing it to stop the handcuffs cutting into him. Surely his wrists were going to be quite sore by the time Cai had finished with him. Dorian shivered slightly as Cai brushed the hair out of his eyes. His hands were freezing and they felt nice against his warm face. He was worried that his cheeks had gone pink. Dorian was never embarrassed but he felt sort of uncomfortable and was unable to relax. He had never been in this situation before. He felt so out of control and it just felt weird. He had never ever been in this situation before. It kind of felt nice though. Not having to worry about what you had to do next or calming the person down, you had someone else doing that to you. Still he felt helpless.

As Cai flashed a smile at him Dorian felt his whole body relaxing. That smile was just so perfect, much like his own. He listened as Cai explained he was a Harkness. Dorian had never heard of that name before so wasn't entirely sure exactly what it meant but he didn't care. He just smiled at Cai's perfect Welsh accent as he talked to him. Dorian opened his mouth to say something but was stopped by Cai's legs going either side of his body. He couldn't remember the last time he was like this. He just watched Cai carefully, waiting to see what he was going to do next, a smile on his face. He had to admit he was enjoying himself quite a lot even though he did feel his whole body tensing.

Dorian listened to the two options carefully and pondered them for a while. He wanted to try and regain control of the situation and if he refused to kiss him that would at least be a start. Dorian tried to think how he had got into this situation and couldn't really remember. It had all gone quite quickly. However, he did desperately want to kiss Dorian to experiment. See what sort of feelings he felt when he kissed him. He opened his mouth again to speak but this time was stopped by Cai's cold hand going up his top. He gasped slightly but found himself strangely enjoying it. "I don't want to kiss you bad boy." He said with a smirk.

-
----------------[/b][/size][/center]
TAG
!?[/b] Cai Harkness Jones
WORDS
!? 426[/b]
NOTES
!?[/b]

Yay!
STATUS
!?[/b] done
[/color][/font]